Gymnastics
Thank you for bringing Gymnastics closer to the WIN!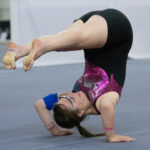 #DidYouKnow there are more than 660 Special Olympics New York gymnasts statewide.
Your support will improve their experience by providing needed equipment, facilities, uniforms, transportation and more, while also allowing more athletes to GET IN THE GAME!
Complete your donation below.
View More
Fundraising Honor Roll
Pacy and Libby Reinhardt
$35