Join Us for a
FREEZIN' FOR A REASON GREAT TIME!!!

http://www.facebook.com/FishkillPlunge

https://twitter.com/FishkillPlunge

https://www.instagram.com/fishkillpolarplunge/
20th Annual Fishkill Polar Plunge
Saturday, February 24, 2018
Two Registration times for Plunges:
First Registration: 9:00AM-10:00AM
Buses will start loading at 8:30AM.
Plunge: 10:30AM

Second Registration: 12:30PM-1:30PM
Buses will start loading at 12:00PM
Plunge - 2:00PM

Buses will be running continuously.
Bus shuttle will be at SPLASH DOWN BEACH
16 Old Route 9 West
Fishkill, New York 12524
NO ONE IS ALLOWED UP TO SHARPE RESERVATION
UNLESS YOU ARE CONTACTED!
NOTE: Team members can register at any two of the plunge time.
The donations will still all go to the same team.
UPCOMING TEAM FUNDRAISERS:
NEW FOR THIS YEAR! PLEASE JOIN US!
WE ARE PROUD TO ANNOUNCE THAT WE WILL BE DONATING .10 CENTS PER GALLON TO THE
SPECIAL OLYMPICS NY – HUDSON VALLEY REGION'S, FISHKILL POLAR PLUNGE!
STOP BY AT ANY ONE OF OUR FOUR LOCATIONS IN FISHKILL, E. FISHKILL, HOPEWELL JCT. & MAHOPAC,

EVERY FRIDAY OVER THE NEXT 6 WEEKS, BETWEEN THE HOURS OF 3:00PM - 6:00PM ON:

FRIDAY, JANUARY 12TH / FRIDAY JANUARY 19TH / FRIDAY JANUARY 26TH

FRIDAY, FEBRUARY 2ND / FRIDAY, FEBRUARY 9TH / FRIDAY FEBRUARY 16TH

PLEASE JOIN US AND HELP TRANSFORM THE LIVES OF OTHERS THROUGH SPORTS!!!

BECOME THE CHAMPIONS CLUB MEMBER!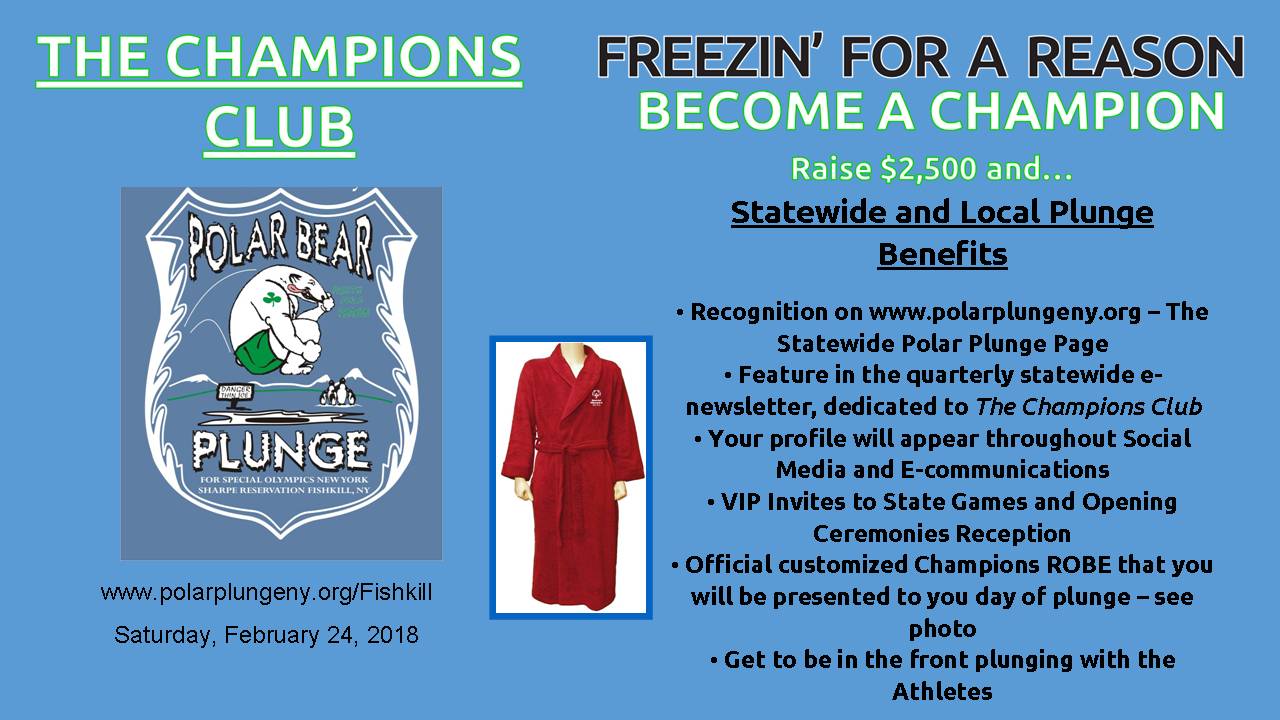 NAMES OF PARTICIPANTS WHO ARE IN THE CLUB:
JAMES CUNLIFFE (JAMES FANOLICH)
******

THE OUTBACK FUNDRAISER IS KNIGHTS OF COLUMBUS!
JOIN US!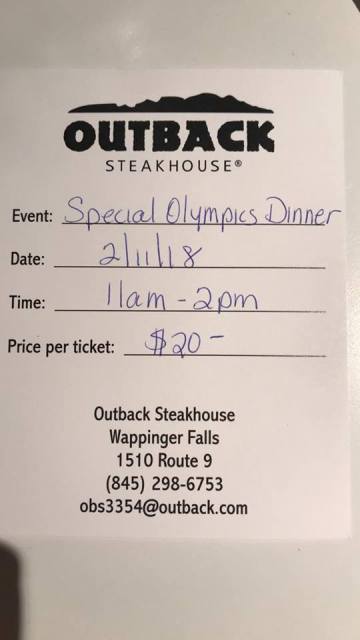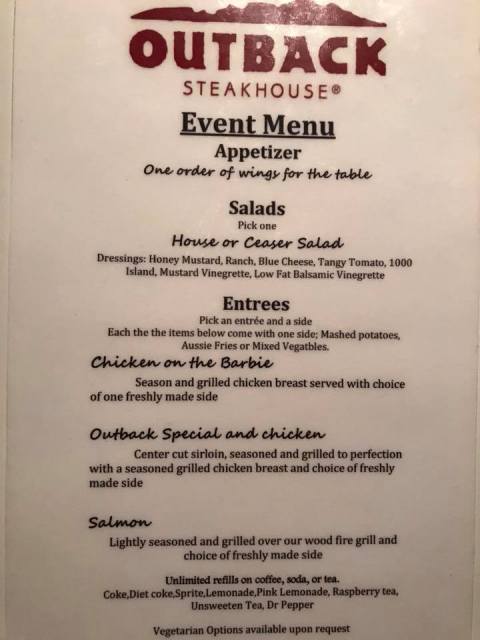 PLEDGE SHEETS (Click on below Link)
VENDOR SIGN UP IS OPEN!
JUST CLICK ON "REGISTER AS AN INDIVIDUAL AND CLICK ON VENDOR OPTION!

TOO CHICKEN TO PLUNGE?
No worries! Here is your opportunity to get involved!
You can register at any of the two plunge times.
The best part, is you also get ALL THE AMENITIES as a plunger!
It is just like being a plunger, but you don't have to plunge!
Enjoy the day with everyone else!
The best part? You can register with your friends and family who are taking the plunge that day and you do NOT have to plunge! How exciting!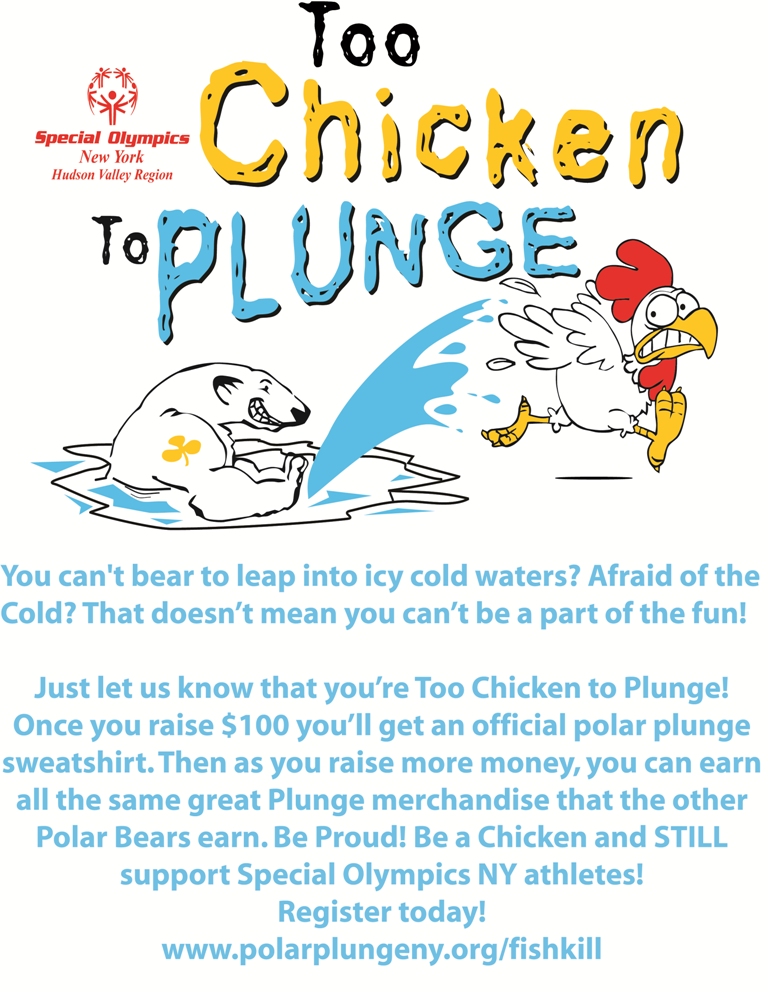 Amenities for ALL
Raise $100 get a free official Polar Plunge sweatshirt
Raise more,
get another incentive.....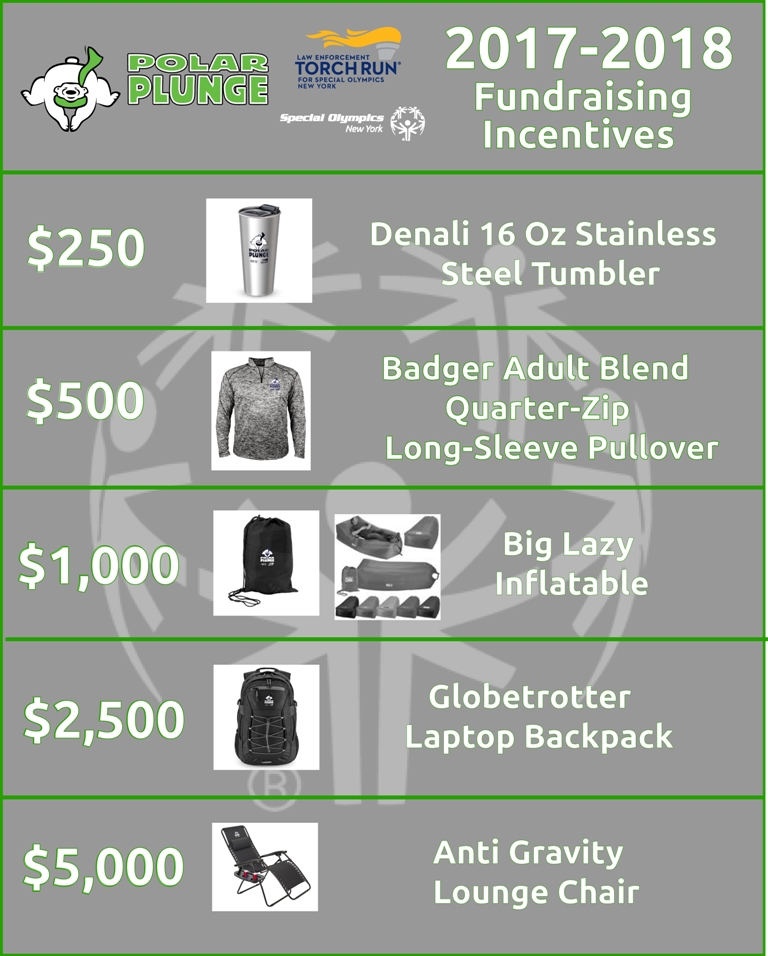 COOL SCHOOL CHALLENGE!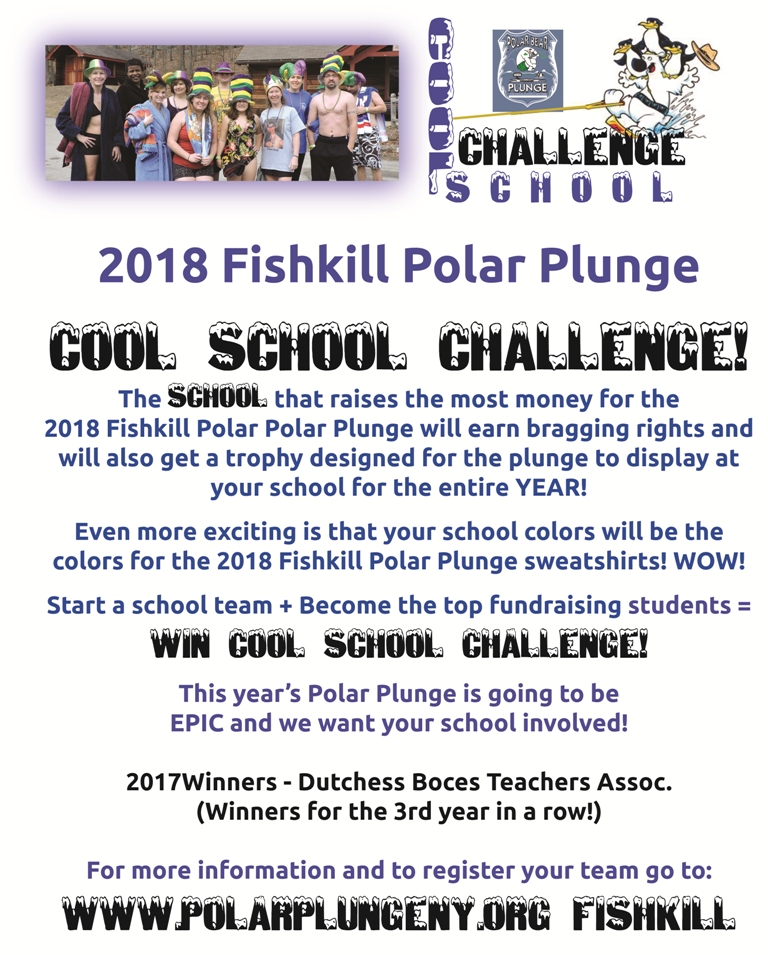 VOLUNTEERS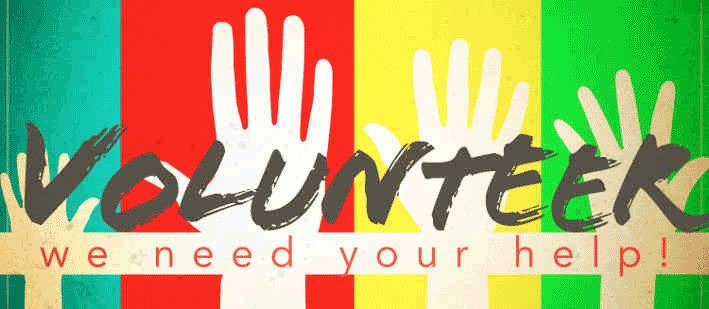 We are looking for 30-40 volunteers to help with one of our signature fundraising events- our Westchester Polar Plunge! Volunteers will be assigned to help with set up/ breakdown of the event, registration, sweatshirt distribution and more!. If you are available and would love to volunteer with our organization, please contact me directly. This is a great and fun way to become involved with Special Olympics New York!

845-262-6011
tgilli@nyso.org
Here is the 2017 Top Team - Callan's Crew:

Help raise money for the athletes of
Special Olympics New York by asking your friends,
family, co-workers, etc. to support you
in taking the PLUNGE!
Then, take a dip or slow crawl into
the chilly waters.
Donate:
Find a Participant or Team:
Participate: