Join Us for a
FREEZIN' FOR A REASON GREAT TIME!

*EACH INDIVIDUAL MUST RAISE $25 IN ORDER TO PLUNGE*
Ithaca Polar Plunge
March 25, 2023
Registration 10:00AM to 11:30AM
Plunge IN 5-MINUTE WAVES 12:00PM
Taughannock Falls State Park Beach
1740 Taughannock Blvd
Trumansburg, NY, 14886
Click HERE to Volunteer! :)
Gather your family, grab your friends, double-dare your co-workers and start a Polar Plunge Team! You can also join us as an individual if you like, just be ready to get wet!
Collect donations to help sponsor your plunge in support of local Special Olympics New York athletes. Every dollar donated makes a difference! *Cash and checks CAN be turned in on the day of the event... There will also be a credit card machine to use if you would like to donate that way.*
Each member who raises $125 will win this year's official Polar Plunge sweatshirt!
Our goal is... $100,000! Can you help us reach that and sponsor 200 athletes for one entire sports season?
---
"The Coughlin & Gerhart Scholarship"
Coughlin and Gerhart, one of the most established firms in the Southern Tier of New York, not only offers numerous highly experienced and skilled attorneys, diverse practices, and a core belief that everyone who requires a lawyer deserves to be treated as a priority, but they are also supporting Special Olympics New York by providing a $1,000 scholarship for the 2023 Ithaca Polar Plunge!
Who is eligible to win?
Any student registered under the team division: Cool School High School OR Cool School College Teams.
1st Place: $500
2nd Place: $350
3rd Place: $150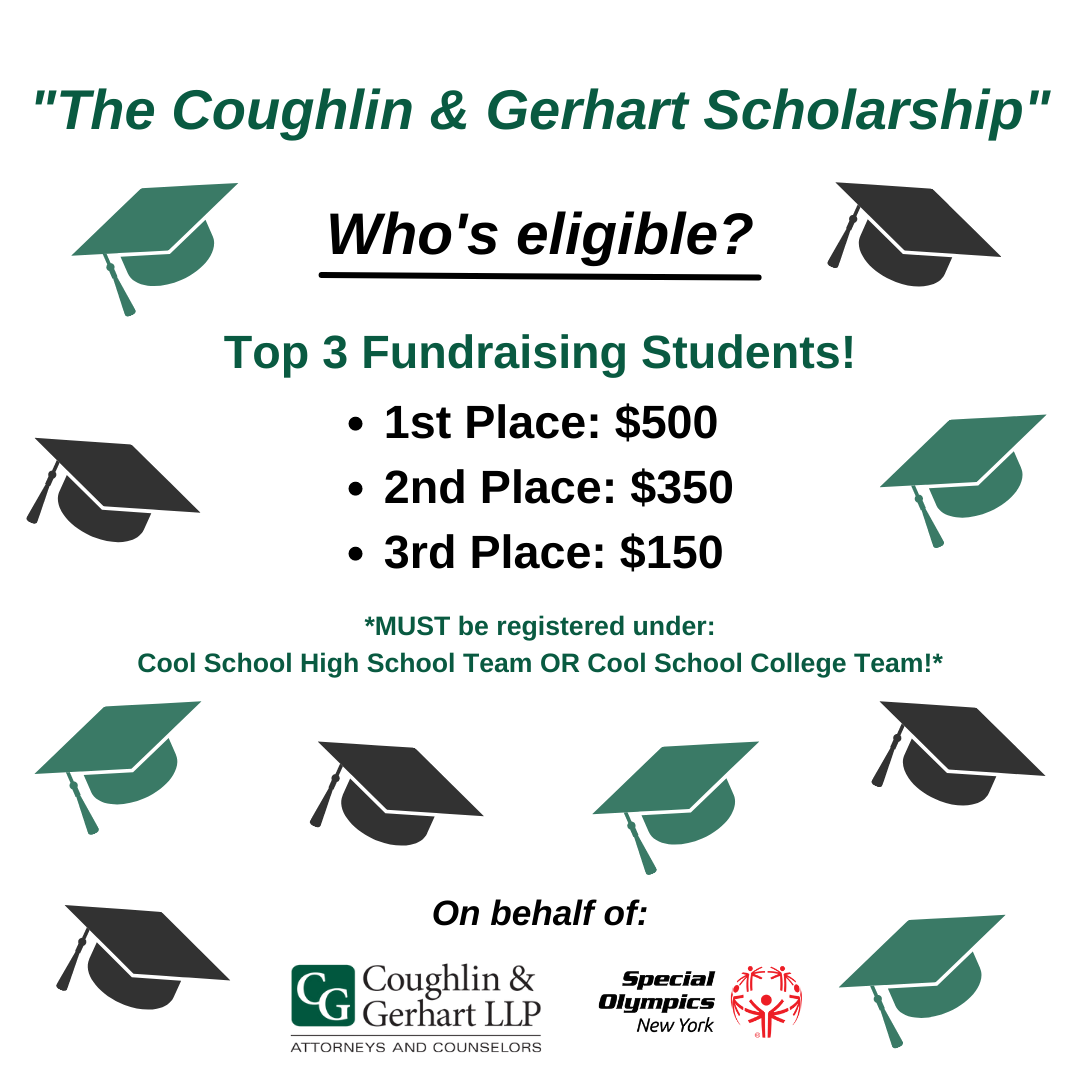 Texas Roadhouse Post-Plunge Party:
This year, Special Olympics New York is proud to announce that we are partnering with the Ithaca Texas Roadhouse to host a post-Plunge party after the 2023 Ithaca Polar Plunge!
Who: Ithaca Texas Roadhouse and Special Olympics New York
What: 10% donation night to benefit Special Olympics New York and the 2023 Ithaca Polar Plunge
Where: Ithaca Texas Roadhouse - 719-25 South Meadow St., Ithaca, NY 14850
When: Saturday, March 25th, 12pm-10pm
How: Show your support by presenting this flyer, mentioning the cause, or showing proof of your registration wristband to the Ithaca Texas Roadhouse, and Texas Roadhouse will donate 10% of your total purchases to Special Olympics New York!
*Call ahead seating is highly encouraged: 607-272-1621. This is NOT a reservation, it is priority seating. All orders can be via dine-in, or to-go.*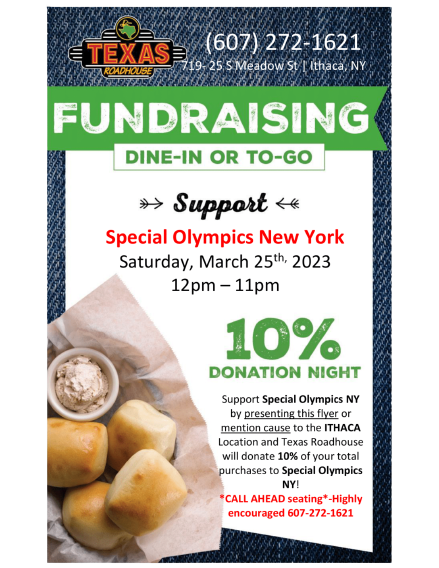 *2023 ITHACA POLAR PLUNGE CHALLENGES:*
COLLEGE CUP:
The top fundraising college team - sport, club, fraternity, sorority - will win the rotating Ithaca College Cup. This is the SECOND year of the College Cup, let's kick it off strong! Challenge other colleges to get the competition going!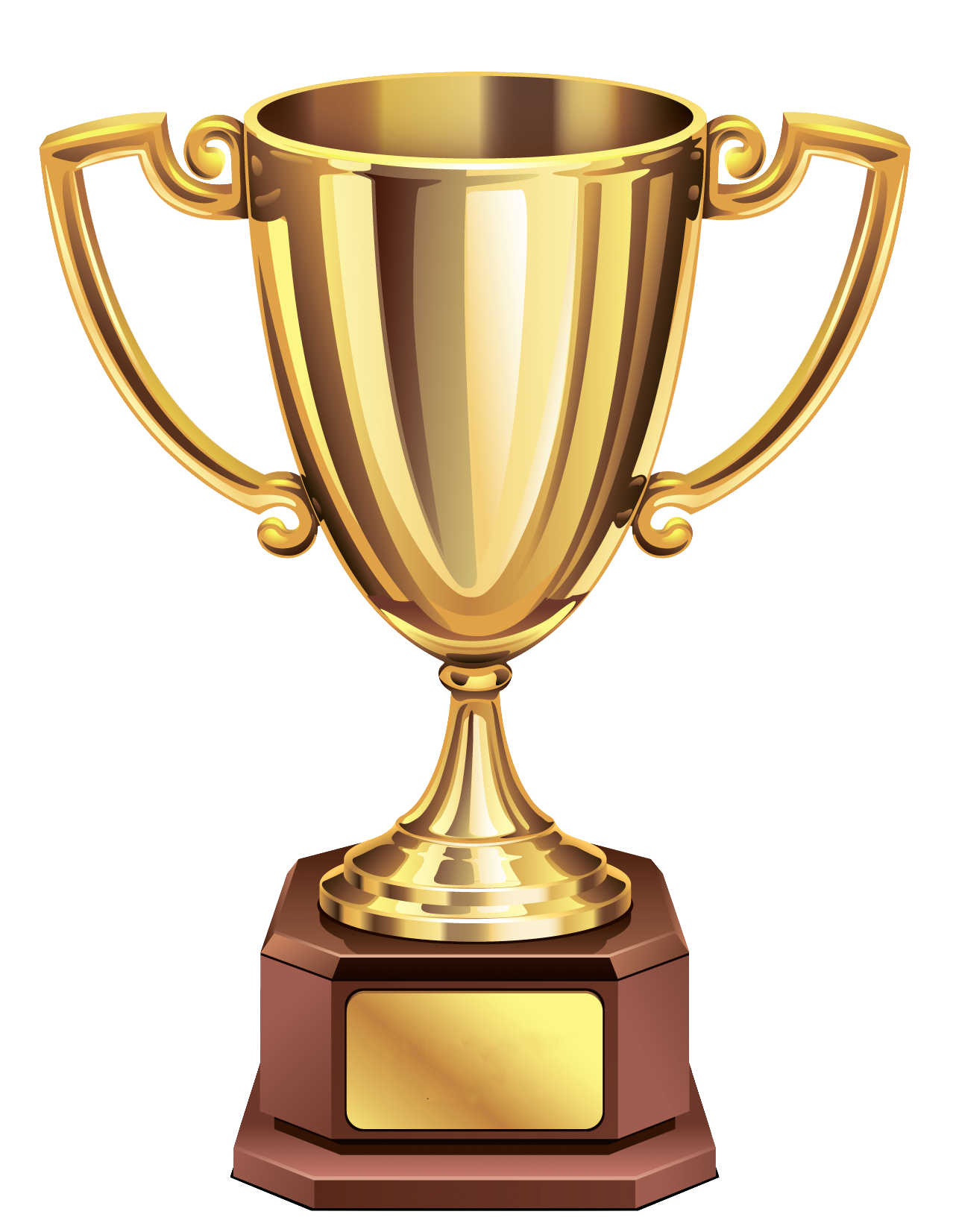 SHIVERING SWEATSHIRT CHALLENGE WINNERS:
The top 10 Individuals, and Top 10 Teams, who raise $500 by 5pm on Friday, February 17th, will receive their names on the back of this year's OFFICIAL Polar Plunge Sweatshirt!
COOL SCHOOL CHALLENGE:
Register your school Team today, recruit the most Team members, AND raise the most for a chance to win our Cool School Challenge. Winners will receive a Cool School section inside the tent with "Cool School Snacks", and a special prize on the day of the Plunge!
Think you have what it takes to be a "Cool School"? This is a new challenge that will take place every year for the Ithaca Polar Plunge.
Congratulations to last year's Cool School Challenge winners... Corning Painted Post!
PLUNGE CUP:
The top fundraising First Responder Team will win the rotating Ithaca Plunge Cup, and be the FIRST group into the water leading the athletes and torch. Challenge other First Responder Teams to get the competition going!
TEAM BANNER CHALLENGE:
Show your Team spirit by registering your Team, recruiting Team members, and raising money to win a CUSTOMIZED Team Banner! For every Team that raises a minimum of $1,500 by Friday, February 24th, your Team will receive a CUSTOMIZED Team Banner with YOUR TEAM NAME on it to parade into the water on the day of the Plunge.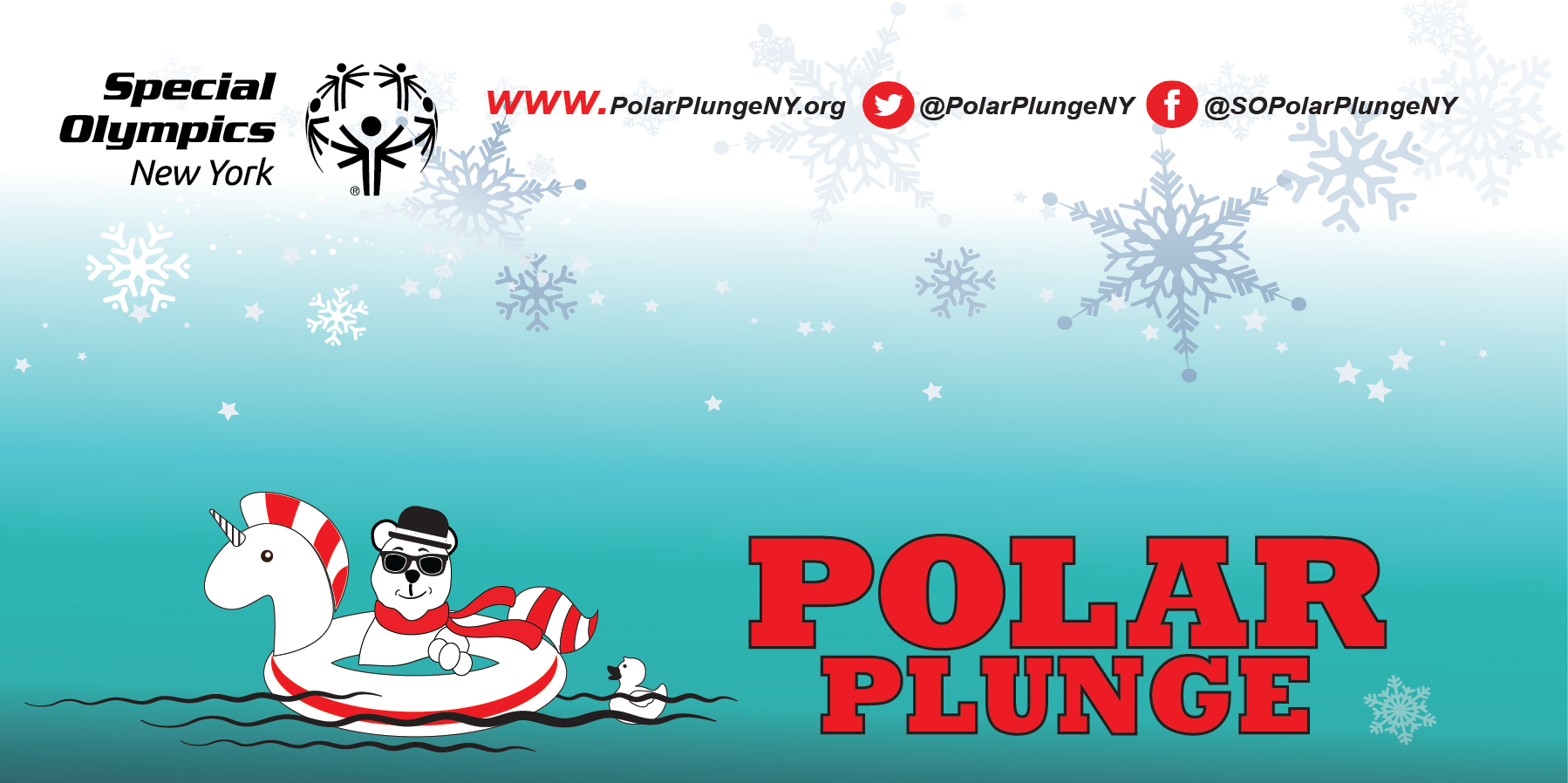 Donate:
Find a Participant or Team: