Join us as we will be ROWING FOR A CAUSE for the athletes of Special Olympics New York!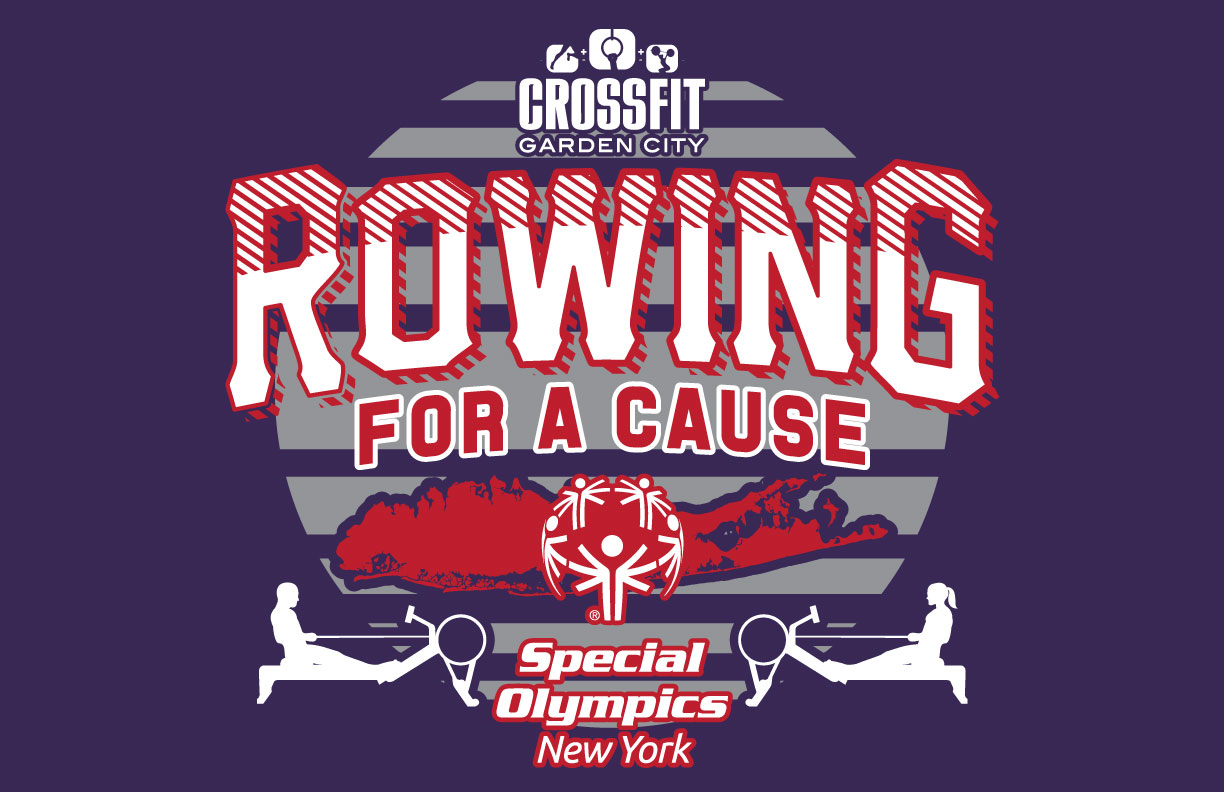 2018 Rowing for a Cause
Crossfit Garden City
Sunday, September 23, 2018
Teams of 3 will compete in a 9k meter row. All teams must fundraise $500 in order to compete. No Registration fee—all participants will receive a free –t-shirt! Grab your rowing partners and lets compete as we make a difference!
Schedule:
9am – Team Check In
9:30am – Warm Up
10am – Athlete briefing/Competition begins
11am – Open Gym
Athlete Briefing:
Teams of 3 athletes will compete in a 9,000 meter row.
This workout begins with one athlete seated on the rower, the handled stowed and the monitor set to countdown from 9,000 meters.
At the call of 3...2...1...GO!, the first athlete will reach down and begin rowing. Once the first athlete rows 1,000 meters, athlete 2 will switch with athlete 1 and row 1,000 meters, followed by athlete 3 switching with athlete 2 and rowing 1,000 meters. Athletes will continue rowing relay style for 2 sets of a 500 meter row for each athlete, followed by 4 sets of a 250 row.
Every second counts in this workout. The team's score will be the time it takes to complete the 9,000 meter row and the monitor reaches 0 meters. Time will be recorded in full seconds. If a team finishes in 30:32:07, their score will be 30:32. There is no time cap for this challenge.
**ALL PROCEEDS GO DIRECTLY TO SPECIAL OLYMPICS NEW YORK**
Special Olympics New York provides year-round sports training and athletic competition in a variety of Olympic-style sports for children and adults with intellectual disabilities, giving them continuing opportunities to develop physical fitness, demonstrate courage, experience joy and participate in a sharing of gifts, skills and friendship with their families, other Special Olympics athletes and the community.
**Prizes will be awarded for best male, female, and co-ed teams and top fundraising team!
For more information contact:
Rebecca Hoffmann
Email: Rhoffmann@nyso.org
Phone: 631-458-1579
Donate:
Find a Participant or Team:
Participate: