2022 Buffalo Bowl
Saturday, June 4th 2022
Highmark Stadium-1 Bills Drive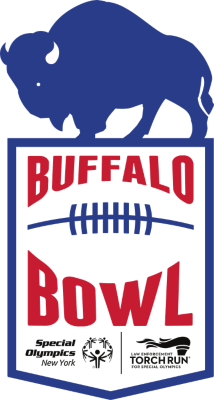 6-on-6 Flag Football at Highmark Stadium
Welcome to the 2022 Buffalo Bowl, to benefit Special Olympics New York! Register your team for the sixth annual Buffalo Bowl, a 6-on-6 flag football tournament. Play at Highmark Stadium, the home of the AFC East Champion Buffalo Bills!
This tournament is limited to the first 48 teams that raise a minimum of $1,200 to play. Teams will be placed on a waiting list when the tournament fills up. The schedule for the tournament is dependent on the number of teams registered. The morning session will consist of middle school and high school teams. The Pro Division will play at night under the lights.
How? Register a team of up to 12 players and play on the AFC East Champion's home field!
This is an official 6-on-6 flag football tournament with light blocking. There are five leagues:
Pro League
Amateur League
Co-Ed League
Middle School League
High School League
Teams are allowed up to 12 players; all must be 18 years of age or older to participate in Amateur, Co-Ed, First Responders and Pro Leagues. For Middle School and High School Leagues are dependent on birth dates. Field size is 20 yards x 40 yards with each team guaranteed three games at Highmark Stadium. Games will begin at 9:30am. Opening Ceremonies will begin at 8:15am.
Pro League - this will be the most competitive league there is. Teams have more than a basic knowledge of the game and are looking for a competitive experience. This division will play under the lights at night.
Co-Ed League - teams are required to have at least two females participating during each play.
Amateur League - this league is less competitive and focused on the experience and so much winning or losing. First Responders will have a subdivision in this league. Please make sure you check the box for First Responders while registering.
Middle School League-must have birth dates between 11/30/2008-11/30/2011
High School League-must have birth dates between 12/1/2011-12/1/2004
Each team must raise a minimum of $1,200 to qualify to participate in this event. Schedules will NOT be sent out until the tournament is sold out.
All donations are non-refundable.
For more information:
Erica Raepple at 716-909-6444 or eraepple@nyso.org
Donate:
Find a Participant or Team:
Participate: